Welcome to Karin & Jeanette Göransson S*Dusty Coon's

S*Dusty Coon's is a small family-based breeding of Maine Coon cats. Located in Frösön approximately three kilometers from Åre/Östersunds airport.
Our goal is to breed healthy, welltyped Maine Coons whit good temper. We have a few litters per year. Our cats lives among us like family members first, whit free access to our hole apartment. Our cats are not aloud to spend time outdoors but have services to a coral patio and can spend time outside when we go to the country.
Our breeding cats are tested for HCM.
We are since 2009 certified as breeders to engage cattery of country administration in Östersunds community by current § 16 animal protection.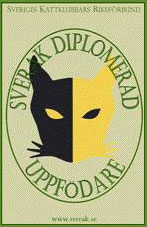 We have also diploma from SVERAK as breeders.
If you want to contact us you can either:
Mail to Karin@dustycoons.com or
Give us a call 004663-44591 or 004670-3291345
Greetings Karin//Jeanette S*Dusty Coon's